Lost For Words (2014)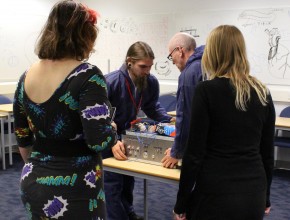 Creator/Producer
Designed to lure the audience into a false sense of security, lost for words will challenge how the player thinks and feels.
Join in on a game that takes our understanding of this modernistic world we live in and confronts its motives. The game is set in the here and now, it aims to highlight advancements of technologies. How have these elements impacted on our cultural artefacts, artefacts that are not designed to update or adapt? How will they survive? What will happen if we try to bring a piece of the past into the future?
This game is an experience that address these issues and explores what happens when it all goes wrong.
Lost For Words replies on the use of language exploring the way we use it to communicate whether written words, face to face or online.